Join TeamFINNEGANS: Ha
ve Fun, Make An Impact.
Volunteer WITH US
Looking for a fun and impactful way to spend your time while building your community? Join us to help those experiencing food insecurity in our local communities throughout the Midwest. Volunteering is always better when beer is involved!
TeamFINNEGANS is a group of fun, like-minded, socially conscious individuals who volunteer for FINNEGANS Community Fund. If you're a barstool philanthropist, passionate about building strong communities, and believe that doing good and having fun go hand-in-hand, join the TeamFINNEGANS brigade on our mission to alleviate hunger.
To date, FINNEGANS has given back more than $2 million (and counting) in total impact to the community. Needs have doubled in the past year. We offer several opportunities for you to engage your time and talents for the greater good!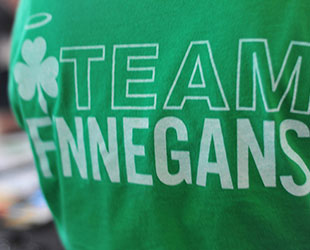 Reverse Food Truck
Be a part of fund-raising (and food-raising) efforts, with the FINNEGANS Reverse Food Truck.
Sampling Saints
Spread the word about our mission as a brand ambassador, offering samples of delicious FINNEGANS beer!
Food Bank Partners
Our food bank partners in Minnesota, North Dakota, South Dakota, and Wisconsin are continually looking for volunteer support.
Support Elliot Park
Food relief organizations in our backyard, the Twin Cities Mobile Market and Support House of Charity/St. Stephen's, are seeking volunteers for regular shifts. Sign up and your next pint of FINNEGANS is on the house!
Join Us
Whether you're looking to sign up for opportunities above, or for any pro bono consulting, project based opportunities, we want to hear from you! Even if you just want to come to the next volunteer happy hour, sign up! We'll be in touch.