We Bike Towards A Future Without MS.
Ride the MS150
TeamFINN Rides the MS150
2022 Ride Date: June 11-12, 2022
Help us be the #1 fundraising team! Over 11 years, we have raised over $1,000,000 and we aren't done yet. Watch this page for information on how to sign up.
Riders on TeamFINN enjoy several benefits before and during the MS150 including:
Organized spring training rides
Happy Hours at the FINNEGANS brewery
An original annual FINNEGANS MS150 jersey (for purchase)
A team celebration at the finish line!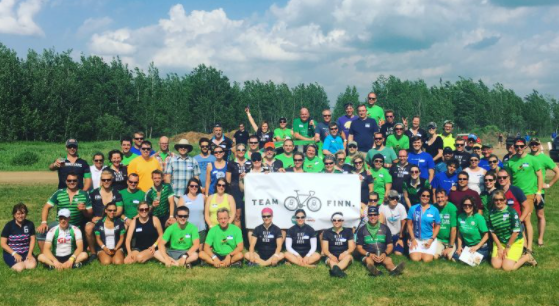 The TeamFINN Mission
We've formed a team for Bike MS—an epic fundraising ride that is changing the lives of people affected by MS and helping fuel progress toward a world free of MS.
We'll go the distance for MS. What will really put power in our pedals is your support and our commitment to those impacted by this disease. Every mile we ride brings us closer to our goal — a world free of MS.
Please support our team today.
Each year, we set an ambitious fundraising goal because we know that with support from people like you we can get there. The money raised will help fund amazing progress in MS research, as well as programs and services that ensure people affected by MS can live their best lives.
About TeamFINN
2022 will be our 11th year riding as TeamFINN in the MS150. What started as a team of 26 riders, a crockpot of sloppy joe's and a few cases of beer in 2012 has grown to over 150 FINNEGANS riders and volunteers annually. TeamFINN was honored in 2017 with the induction into the National MS Society's "Chairman's Circle" for raising over $500,000 to help fight MS!
TeamFINN welcomes ALL RIDERS to join the team – there are no additional fees or requirements to have an affiliation with FINNEGANS or a member of TeamFINN. Sign up information is coming this spring!