Drink Like You Care Theme Song
March 2, 2012 5:17 pm
In keeping with the current craft beer Renaissance we are living in, there are countless breweries popping up all over the place. Many of them have a plethora of offerings, but how many breweries do you know of that have their own theme song? I can think of one. That's right, FINNEGANS now has its […]
In keeping with the current craft beer Renaissance we are living in, there are countless breweries popping up all over the place. Many of them have a plethora of offerings, but how many breweries do you know of that have their own theme song?
I can think of one. That's right, FINNEGANS now has its own theme song, fresh off the press. The Hounds of Finn, a charming band that plays Irish folk music both raucous and serene, was kind enough to write and record "Drink Like You Care".
Pete, Leslie, Michelle and Dave of the Hounds of Finn were kind enough to answer some questions about their history and their respective spirit animals.
How long have the Hounds of Finn been together? Were you drawn together because of your mutual love for Irish music or was that just incidental?
The Hounds have been performing together since late 2007. Leslie and I had been performing original rock &
pop music together for a few years, and had decided that we were tired of not making any money whatsoever. We
had a mutual friend who booked bands at the Dubliner Pub in St. Paul, and we approached him to see if he would be
interested in hiring a new band, as yet unnamed. He gave us the weekend after Thanksgiving 2007, and we've been the Hounds ever since! Irish music is something that everyone in the band has a mutual love for; but when it really boils down to it, music is our true passion. Our connection to the heritage is important to us – all of us have Irish roots – but we are musicians to the core, always looking for new, fun, and innovative ways to express ourselves!
How did you guys get connected with Jacquie? Have you worked with Finnegan's in the past, or is this the first time?
This is just the beginning of what we hope to be a long and fun relationship. We met Jacquie at the Irish Fair of
Minnesota in August of 2011, and have been chatting about different ways to work together since then. During one
conversation, Jacquie mentioned that she was interested in having some music written for Finnegan's, and I jumped on the idea by messing around with some of the slogans for the brand. The idea for the song "Drink Like You Care" popped into my head immediately, and with help from the rest of the Hounds, we were able to make it a reality. There will be more to come as well…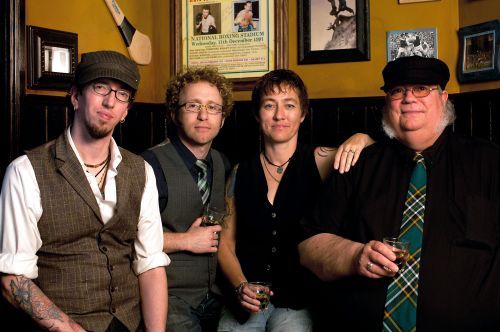 If you could collaborate with one musician living or dead, who would it be?
Pete: I'm on a big mandolin kick right now… So I'm going to say Sam Bush, progressive bluegrass mandolin pioneer…
Leslie: I would totally love to write songs for a pop princess… Madonna maybe, or Kylie Minogue!
Michelle: Eileen Ivers
Dave: Luke Kelly from the Dubliners.
Every band has T-shirts and stickers and such. If you could choose any item as an official piece of Hounds of Finn Merchandise, what would it be?
Pete: I can't wait for Finnegan's to start distilling some Hounds of Finn whiskey!
Leslie: I'd love it if Gibson had a Hounds of Finn signature series guitar… These would be only for the die-hard fans!
Michelle: Definitely a Flask or Shot glass!
Dave: A flask for whiskey or a flash light key chain so our fans could flash us at our shows.
What are each band members spirit animals?
Pete: Mine would be the star-nosed mole… or on a good day, the African honey badger!
Leslie: My spirit animal happens to be an Otter. Nurturing, playful and easygoing… Flaky and hard working in equalparts!!
Michelle: I was told my musical animal totem is a Canary…. the power of sound to heal, enlighten and excite!
Dave: Sea Otter… as opposed to Leslie's River Otter…